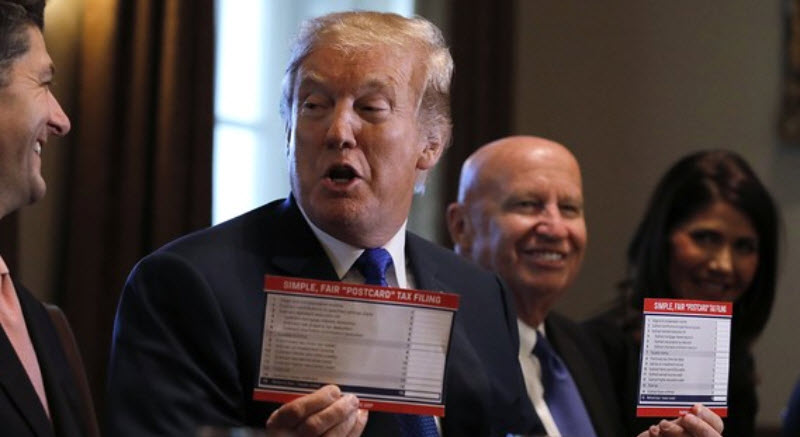 29 Nov

Trump Tax Calculator. Will You Pay More or Less?

Will you pay more or less under Trump's tax plan? We have a calculator that will help you determine if you will pay more or less in taxes. Use the Trump Tax Calculator to find out.

This trump tax calculator was originally published on Marketwatch, Nov 29, 2017

As the Senate advances on its tax-cut bill while House Republicans have passed their version, MarketWatch has the calculator to show how the bills would potentially impact your finances.

The Trump Tax Calculator
Here's an estimate on how the legislation would affect you in the first year following its enactment.

Click here to find out. (this link will take you to the MarketWatch website)

The legislation, called the Tax Cuts and Jobs Act, cuts individual tax rates and slashes corporate taxes, among other things.

But not everyone's a winner. The mortgage-interest deduction is limited, and state and local income tax deductions are zapped in both the House and Senate plan. The plan from the upper chamber also eliminates the state and local property tax deduction.

The Trump tax calculator includes the new rates and child-tax credit unveiled by the Senate. It's only meant to give a look at what happens in the first year after enactment, as the individual tax rates are set to sunset.

The path to living the life you choose begins with an investment plan that is completely aligned with your life goals.  Our commitment is to build you an investment plan that gives you complete clarity, confidence, and control over your future–that is the Xceed Client Advantage.

Disclaimer: This information is provided for educational purposes only. No statement contained herein shall constitute tax, legal or investment advice. This is not a solicitation for the purchase of any particular product. The information is not intended to be used as the sole basis for financial decisions, nor should it be construed as guidance designed to meet the particular needs of an individual's situation. All individuals are encouraged to consult with a qualified professional before making any decisions about their personal situation. Investing involves risk, including the potential loss of principal amount invested. Insurance product guarantees are backed by the financial strength and claims-paying ability of the issuing insurance company and are not FDIC insured. We are an independent financial services firm helping individuals create retirement strategies using a variety of investment and insurance products to custom suit their needs and objectives.